Vegetable, kamut spaghetti with fresh cheese and herbs
This organically healthy
vegetarian recipe
is made from combination of fresh chopped vegetables, cheese and herbs.
Procedure:
Step 1:
Chop the vegetables and herbs into small pieces.
Step 2:
Mix the vegetables, chopped herbs/spices with ghee butter and let rest for few minutes.
Step 3:
Place spaghetti in a pot of boiling, salted water and cook them for about 15 minutes (depending on the instructions - look out that they are not overcooked but "al dente").
Step 4:
Roast the vegetables for few minutes at a higher temperature, then add a tsp of water and a tsp of lime juice.
Step 5:
Reduce temperature and fry another 5 -8 minutes.
Step 6:
Add young goat cheese to a sauce, turn off the temperature and allow standing on the hot plate until the spaghetti is not cooked.
Step 7:
When the spaghetti are cooked, add the olive oil and stir.
Step 8:
Add sour cream and cooked spaghetti to a sauce and mix everything together in a wok.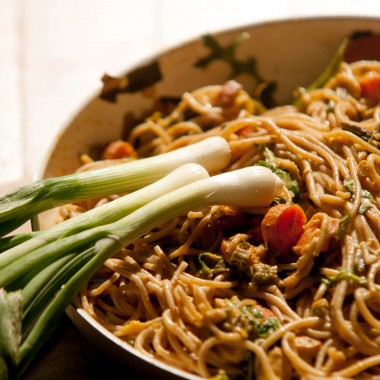 Servings:
4
Prep Time:
30
Total Time:
1h
Related Categories: Vegetables,
Ingredients:
350 g kamut spaghetti, 30 g asparagus, 4 pcs young carrots, 2 pcs young onions, 1 cup rocket, 2 tsp olive oil, 1 tsp. ghee butter, 1 tsp. lime juice, 4 tsp. young goat cheese, 1 tsp sour cream. Spices: salt, white pepper, chopped fresh chives, parsley to taste.