Spicy Ice coffee with almond milk
Soak almonds in water for two days or more. When they become soft, finely blend them in blender to get fine flour. All together initially rub through a colander on which you put a clean
thin cloth. Squeeze the remaining of ground almonds trough thin cloth to get extra creamy white milk. Add agave syrup to a milk ( to a taste) and place it in a refrigerator. Cook Coffee - to two (or more) teaspoons of coffee add a teaspoon of ground cardamom. at first, fry Coffee with cardamom- a bit - only so much that it smells nicely and not to burn it) add crushed vanilla sticks, then cook the coffee as traditional procedure. Mix the ice coffee with ¾ almond milk and ¼ spicy coffee and well cool off well.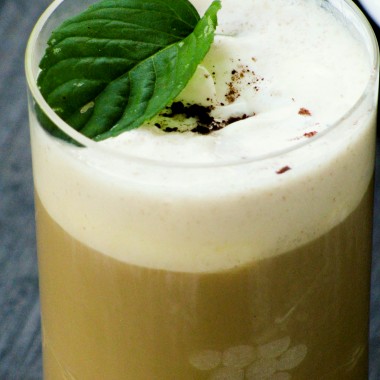 Servings:
2
Prep Time:
20 min (+ 2 day for soaking the almonds)
Total Time:
30 min
Related Categories: Coffee & Tea,
Ingredients:
1 cup raw almonds - preferably organic, 2 cups water, agave syrup to the taste, 2 vanilla sticks - crushed, 1 tbsp. ground cardamom, 2 tbsp. coffee (or more to taste.