Peppers stuffed with vegetables
Roast onions on butter; add the grated potatoes, grated carrots, chopped tomatoes, parsley and spices. Then add crumbled goat cheese and mix to get the fine mixture.
Fill the peppers with this mixture. Then place them on a baking sheet and bake in oven for 60 minutes at 190 degrees. On the end, pour the peppers with a mixture of olive oil and basil.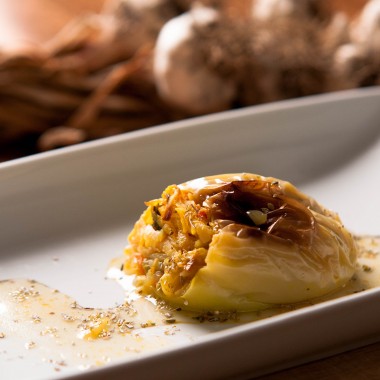 Servings:
4-6
Prep Time:
10 min
Total Time:
1 h 30 min
Related Categories: Vegetables,
Ingredients:
1 tbsp. ghee butter, 5 white sweet peppers, 5 potato, 1 large onion, 4 young carrots, 3 tomatoes, 1 coup young - salty goat cheese, spices: salt, turmeric, lovage, oregano, pepper, basil to taste, 3 tablespoons olive oil.