Reuben
Spread each slice of bread with 2 tsp dressing. On 1 slice, place the corned beef, then the sauerkraut, and then the cheese.
Butter the top of the sandwich then place buttered side down on a preheated griddle. Butter the other side of the sandwich which is now on top.
Griddle the sandwich until well-browned on both sides.
Cut the sandwich in half and serve at once.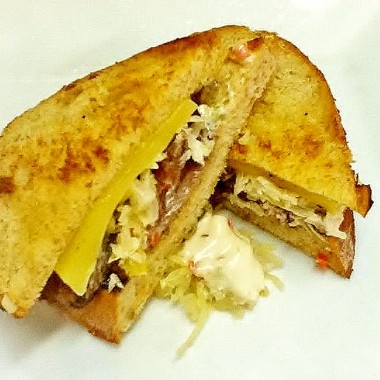 Servings:
Prep Time:
Total Time:

Related Categories: Sandwiches,
Ingredients:
Dark rye bread, sliced 2 slices Thousand Island dressing 20ml Corned beef, thinly sliced 60g Sauerkraut, well drained 30g Swiss cheese, sliced 30g Butter, unsalted as needed