Raisin Walnut Loaf
Procedure Description
In a bowl, whisk together egg, vegetable oil, sour cream and water.
 Dissolve salt and sugar in the water mixture.
 In another bowl, mix together bread flour, yeast and cinnamon.
 Pour water mixture into the flour mixture.
 Transfer mixture to a mixer. Using the hook attachment, mix on low speed for 3 minutes. Shift to medium speed and continue mixing dough until it is smooth.
 Transfer dough on bench. Knead dough until smooth.
 Knead in the raisins and walnuts. The dough should be strong and not too wet.
Transfer dough to a lightly greased bowl. Cover with plastic wrap. Label.
 Allow dough to ferment for 1 ½ hours.
Degas dough.
Divide it into 2 equal pieces.
Form each dough piece into a loaf.
 Place in greased loaf pans (8 ½ inches x 4 ½ inches). Cover loosely with plastic.
 Proof dough for 1 hour or until it passes the indentation test.
Place loaf pans on a sheet tray, making sure that they are not touching each other. Bake dough at 350F for 20 minutes. The finished bread should register 190F in the center and be golden brown on top.
 Remove bread from the loaf pans and transfer to a cooling rack.
Cool for at least 1 hour before slicing and serving.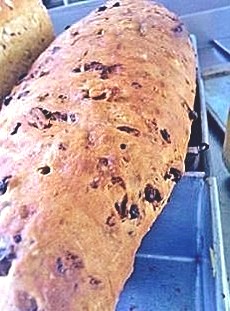 Servings: 1310g/650 per pc
Prep Time:
Total Time:

Related Categories: Breads,
Ingredients:
Egg, slightly beaten 51g Vegetable oil 31ml Sour cream 66ml Water 194ml Salt 10g Granulated sugar 20g Bread flour 510g Yeast, instant 10g Ground cinnamon 4g Raisins, rinsed and drained 286g Walnuts, chopped 128g