RISOTTO WITH CHAMPIGNON MUSHROOMS AND WHITE WINE
How to Cook Risotto
On the ghee butter, sauté chopped onion, carrot and garlic. Fry for about 10 min. Then add mushrooms, prosciutto rice and spices to taste and fry for another 5 minutes. Add a mixture of water and white wine (water should extend a few inches beyond the surface of the rice) and cook for about 30 minutes on high heat. When the risotto is cooked, add the sour cream and parsley. Sprinkle with grated parmesan cheese and serve white wine.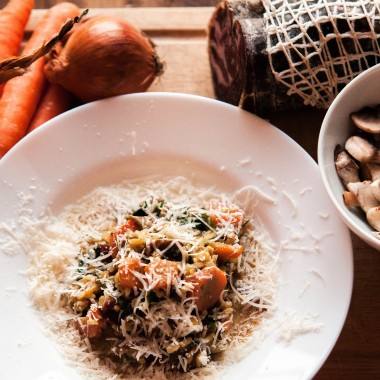 Servings:
4
Prep Time:
30 min
Total Time:
1 h
Related Categories: Rice Dishes,
Ingredients:
1 large onion, 1 garlic, 30 dag champignon mushrooms or porcini mushrooms, 4 large carrots, 1 tbsp. of ghee butter. 1/2 cup chopped prosciutto (or other smoked ham), white pepper, salt, turmeric and chives to taste, 300 g of paddy rice, 1/2 cup white wine (diluted in one cup of water), 2 tbsp. sour cream, bunch of parsley.