Baked macaroni with vegetables
Preparation: partially cook macaroni - that they are half hard. Sauté garlic and onion in olive oil. Add roughly sliced tomatoes, salt, thyme, parsley, laurel and water and simmer everything for 25 minutes. Roughly slice zucchini, add them to the sauce and simmer for another 10 min. Add sour cream. In a separate bowl prepare the béchamel: fry flour in butter, add sweet peppers salt and milk. Stress half cooked macaroni in a baking tray and pour in the liquid sauce. Oven/cook the macaroni in the oven at 200 degrees C. After 20 minutes, spill macaroni with béchamel and oven for another 10 minutes, then sprinkle the dish with cheese. Finally, oven for another 10-15 minutes.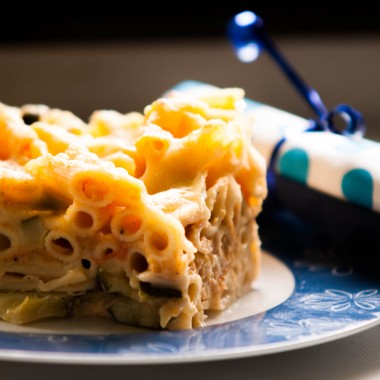 Servings:
4-6
Prep Time:
25 min
Total Time:
1 h 40 min
Related Categories: Pastas,
Ingredients:
1 packet of macaroni, 2 large onions, 1 whole garlic, 5 tomatoes, 4 medium zucchini, 2 cup sour cream, 5 tablespoons olive oil, 1 tablespoon ghee butter, 2 tablespoons spelled flour, 1 cup milk, salt, thyme, parsley, ground pepper, laurel, ground sweet, peppers to taste, 200 g grated cheese.