Salad Nicoise
Cook potatoes in boiling salted water until tender. Drain cool, peel and cut into thin slices. Hold in the chiller.
Cook beans in boiling salted water, drain and cool.
Line the bottom of cold salad plates with leaf lettuce.
Combine potatoes and green beans. Divide among salad bowls.
Drain tuna and break into chunks. Divide evenly as well.
Arrange the anchovy fillets, olives, egg quarters and tomato wedges. Sprinkle the salads with chopped parsley.
Combine the dressing ingredients and mix well. Just before service, mix again and dress each salad with 50ml of dressing.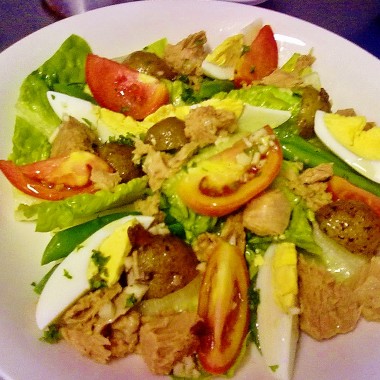 Servings: 5
Prep Time:
Total Time:

Related Categories: Other,
Ingredients:
Marble potatoes 280g Green beans, washed 280g Leaf lettuce, washed ½ head Canned tuna, broken into large flakes 360g Anchovy fillets 5 pcs Olives, pitted 10 pcs Hared cooked egg, quartered 10 pcs Tomato wedges 20 pcs Chopped parsley 12ml French dressing: Olive oil 200 ml White wine vinegar 50ml Garlic, chopped 1 ml Fine salt 3ml Ground black pepper 1ml