German Potato Salad
Scrub the potatoes well. Cook the potatoes in salted water until just tender.
While the potatoes are cooking, prepare the dressing: render the bacon until lightly crispy. Drain the bacon from the fat and reserve.
Bring the chick stock, vinegar, onions, salt, sugar and pepper to a boil. Turn off heat.
Combine the bacon fat, vegetable oil and mustard in a bowl and whisk in chicken stock mixture.
When the potatoes are cooked, drain them and cut each piece in half. Work while potatoes are still hot. Toss the hot potatoes in the dressing, adjust the seasoning and garnish with the chives.
The salad may be warm, cold, or at room temperature.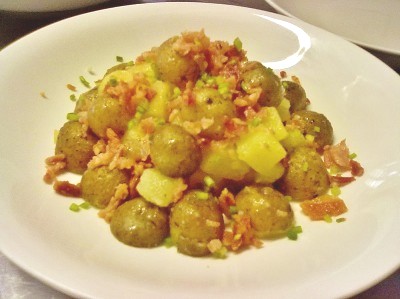 Servings: 5
Prep Time:
Total Time:

Related Categories: Other,
Ingredients:
Marble potatoes, skin on 500g Bacon, chopped 40g Chicken stock, reduced 1 cup Wine vinegar 3 tbsp Red onion, minced 60g Sugar 1 tsp Salt and pepper to taste Vegetable oil 2 ½ tbsp Prepared mild hot mustard 1 tbsp Chives, minced 1 tbsp