"An Italian friend" sandwiches
Slight chop twigs of rosemary and add them to an olive oil. Soak a mozzarella cheese for few hours in olive oil with rosemary twigs. Mix butter with finely minced garlic and spread it to a pieces of bread. Place 1 leaf of a fresh basil on each piece of bread, than add a slice of mozzarella - soaked in olive oil and rosemary and a slice of prosciutto. Bake until bread becomes golden yellow and crunchy.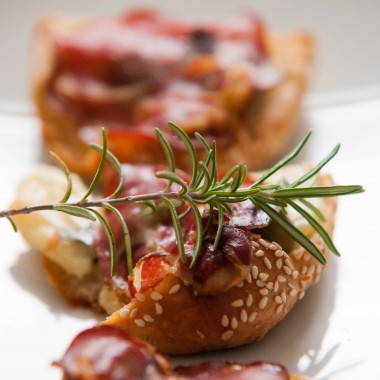 Servings:
4
Prep Time:
20 min (few hours for mozzarella to soak in olive oil)
Total Time:
35
Related Categories: Italian,
Ingredients:
Bagel bread, 5 tbsp. butter, 4 cloves garlic – minced, a pinch of oregano, 5 sprigs of rosemary, 2 packets Mozzarella cheese, ½ cup olive oil, a bouquet of fresh basil, 20 dag. prosciutto.