CHICKEN IN THE WILD GARLIC PESTO SAUCE AND THREE GRAIN MIXTURE
If you do not buy ready-made pesto sauce, you can prepare it homemade - 1 day earlier. Pine nuts, basil and wild garlic finely mix in a blender than add the olive oil and salt to taste. Let mixture to stand for 24 hours. If you do not buy a ready- made mixture of three prepare it yourself. Use 4 tsp rice, 4 tsp grains of spelled and 4 tsp pot barley. In warm water previously soak barley and spelled for 1 hour and add them to the rice. The whole mixture is boiled for about 45 min., or depending on the instructions for the preparation. Marinate chicken pieces with marinade (use a kitchen brush). Fry onion and garlic in the pan at a higher temperature in olive oil. Add the white pepper and salt and fry for a few minutes until the onion is golden yellow. Add the marinated chicken pieces and fry for a further 20 minutes and keep watered with water, then sprinkle with a teaspoon of spelled flour and stir. Add the pesto sauce, mustard and cream and mix all together. Serve pesto sauce and chicken with a blend of three grain. The dish can be served well with white semi-sweet wine.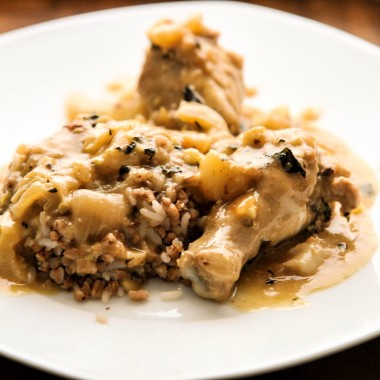 Servings:
4
Prep Time:
15 min
Total Time:
45 min or 1 day in advance, if we prepare homemade pesto.
Related Categories: Italian,
Ingredients:
For pesto sauce (** if you want to prepare homemade pesto, you have to made it 24 hours in advance) 10g pine nuts, 1 dl quality olive oil, 1 cup wild garlic (you can also use young, green garlic), salt to taste, for the marinade: 1 tsp mustard, 1 tsp sweet paprika, 1 tsp white pepper, 1 tsp pumpkin or sesame oil, 4 cloves of garlic, 1 tsp mustard and 2 tsp sour cream, white pepper to taste, 1 large onion, 1 tsp spelled flour, pieces of sliced chicken, 2 cub mixture of three cereals: rice, spelled and barley (you can buy already made or combine them), Salt to taste