Stuffed Cucumber Calamari
Directions: Cut cucumbers into oblong, rectangular pieces and pour the sauce, which is made from sour cream, olive oil, lemon and spices. Separate the tentacles from the squid and save them for sauce. Stuff the squid with marinated cucumber pieces. Save the marinade that was left (sour cream, lemon, olive oil and spices) for later in the separated cup. Roast stuffed squid in sesame oil and keep decant the liquid from the cucumber in a separate cup until cucumbers emits almost no liquid and much of the pan becomes "dry". Then re-fried squid in sesame oil along with the onions until they become golden yellow. Mix soup, which arose from the cucumbers with the remained marinade and pour the mixture to the fried squid. Include a diced tomatoes or tomato sauce and spices to taste and soul everything for a few minutes.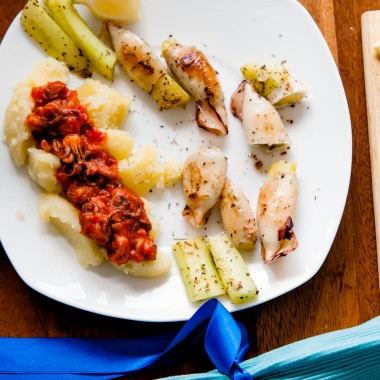 Servings:
4
Prep Time:
15 min
Total Time:
30 min
Related Categories: Fish Recipes,
Ingredients:
1 cup squid, 2 large cucumbers, 3 tablespoons sour cream, cayenne pepper, salt, sweet paprika to taste, half a lemon, tablespoon olive oil.