Paupiettes of Sole Vin Blanc
Season the fillets with salt and pepper. Roll the fillets into paupiettes starting with the large end. Be sure that the skin side of the fillet is on the inside of the roll.
Butter the pan and sprinkle the shallots. Put the fillet on top of the shallots.
Pour the wine and add the stock until the fish is almost covered.
Cut a parchment paper the size of the pan, Butter the parchment and cover the fish with this buttered side down. Covering the pan.
Put the pan in the range and heat the liquid. Do not let it simmer or boiled.
Place the pan in the oven 400F for 5minutes or until the fish is almost done.
Remove the fish and cover, but do not throw the liquid.
Heat the liquid in a high heat and reduce it into ¼ its volume.
Combine the cream and yolk beat and it will serve as your liaison.
Temper the liaison into the sauce. Season with pepper, salt and drop of lemon juice.
Plate and Serve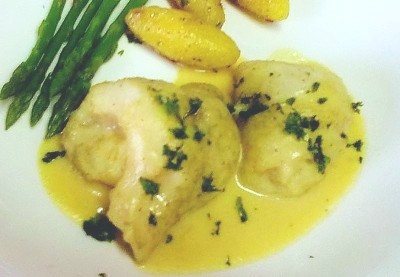 Servings: 4 portion
Prep Time:
Total Time:

Related Categories: Fish Recipes,
Ingredients:
2pcs Sole, cut into 8 fillets, 60g each 40g Butter 20g Shallots, minced 60ml White wine 200ml Fish stock 350ml Fish veloute 2pcs Egg yolk 120ml Cream 10g Butter 60ml Lemon juice To taste Salt and pepper