Gluten-free blueberry cake
Mix all ingredients fir the dough with a hand mixer (density should be such, that it can be blended with a mixer). When the dough is evenly mixed, pour it into the mold cake dish (coated it with cocoa butter). Leave it to rise for at least 60 minutes.
Place a baking dish in a cold oven and bake it covered for 40 minutes at 230 degrees C. After this time, uncover it, and bake it for another 10 minutes. Wait for it to cool.
When the cake is baked soak it with a blueberry juice.
Mix cottage cheese and crumbled - white chocolate, vanilla powder, sugar, sour cream, half of the whipped sweet cream and half of the blueberry mixture. Spread it on the biscuit and put the remaining half of the blueberries on top and pour the gelatin. Cook a gelatin according to the instructions, which is in the bag.
Decorate with remaining cream.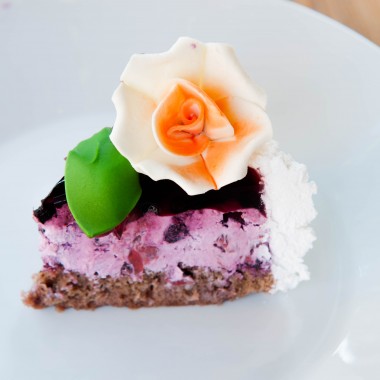 Servings:
4-8
Prep Time:
35 minuts 8(+additional 60 minutes for the drought to rise)
Total Time:
1h 25 minuts
Related Categories: Dessert,
Ingredients:
For the dough: 80g gluten-free buckwheat flour, 90g gluten-free tapioca flour, 80g gluten-free rice flour, 1 packet of yeast - gluten free, 1 egg, 2 pinches of salt, 3 tbs. molasses sugar, 4 tbsp. of coconut butter, 250 ml of hot water. For the filling: ½ cup blueberry juice, ½ kg blueberries, 1/2 kg ricotta cottage cheese, 250g crumbled white chocolate (gluten-free), 2 tablespoons sour cream, powdered sugar to taste, 1 tbsp. vanilla powder, 1 packet of sweet (macadamia or traditional) cream, a packet of gelatin-gluten-free.