Cuban Pancakes Recipe
Mix all the ingredients for pancake dough and leave to rest for a few minutes. Pour oil on a heated pan and pour the excess oil into the cup. Pour approx. half a scoop mass in a pan (depending on how big and how thick you want pancakes) and fry on both sides. Mix ingredients for the filling and spread the filling on pancakes. Sprinkle pancakes with molasses, cinnamon and cocoa.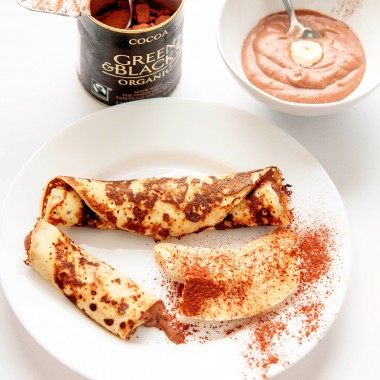 Servings:
4
Prep Time:
20 min
Total Time:
35 min
Related Categories: Dessert,
Ingredients:
For the pancakes dough: 0.5 l of milk, 24 g flour, 2 eggs, Salt to taste, Coconut butter for frying. For the filling: 2 tbsp. coconut mouss, 3 tbsp. cream, 1 tbsp. white rum, 2 bananas, ½ cup coconut milk, 4 tbsp. of organic cocoa processing, 2 tbsp. molasses, cinnamon to taste.