Mom's Fasolada soupa (bean soup)
This dish is one of Greece's favorite. Every.Every kind local has to know this food.food. Beans in their perfect way of cooking,spicy and tasty,gives winter a silk touch.Variations are thousand,but,take the original to start from basics!
•From the previous evening,put beans in a bowl with cold water and cover with a towel.In that way,beans will get soft.
•In some water,boil for 10 minutes the beans and throw away the water.Repeat one more time.
•Add the remaining water,in medium fire,when it gets hot,add all the veggies and beans.
•Cover with a lid and leave them boil for an hour.
•Watch the food constantly,it is dangerous to get burned in the bottom of the pot if t runs out of liquid.
•After one hour,remove lid and add tomato juice,fresh chopped tomatoes.celery,oil,salt and pepper.
•Let them boil for a moment and serve immediately. Enjoy!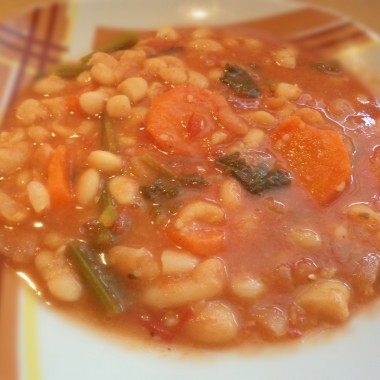 Servings:
4
Prep Time:
7 minutes
Total Time:
60 minutes
Related Categories: Vegetarian,
Ingredients:
•500 gr medium sized white beans •2 medium red onions,cutted in slices •6 carrots,cutted in rolls •1 celery twig,cutted in rolls •200 gr tomato juice •3 medium sized tomatoes,chopped •100 ml olive oil •1.5 lt water •salt,pepper to taste.