Homemade millefeuille

•Prepare the warm cream Mix all ingredients in a pot out of the fire at the beginning and then over the heat until it thickens well .
•Prepare cold cream Beat all ingredients in mixer
Add the warm cream and whisk in the cold for a while .
•Cut SFOLIATINIA in half lengthwise and lay on a baking tray - Pyrex with their inner side up .
•Lay the pastry cream and repeat for two more layers ( SFOLIATINIA - cream )
We finish with cream .
•Beat garni as the instructions say to make whipped cream and spread over the cream .
•In a bowl rub SFOLIATINIA 5-6 with 3 tbsp powdered sugar and 1 teaspoon cinnamon and pour over the cream .
•Sprinkle this mixture of sweet , let out 30 ' and then put in the freezer one hour . Serve and store in the refrigerator uncovered .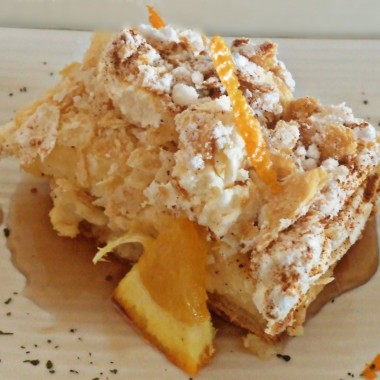 Servings:
8-10 pieces(squares)
Prep Time:
20 minutes
Total Time:
70 minutes
Related Categories: Dessert, Sweets,
Ingredients:
•2 packages of puff pastry biscuits •1/2 sachet garni •3 tbsp castor sugar •1 teaspoon cinammon For the warm cream •3 cups milk •3 tbsp sugar •6 tbsp cornflour For cold cream •3/4 of butter's pack(300 gr) •1 egg •1/2 cup sugar