Grilled Oyster Mushrooms with Ladolemono
We compare this type of mushrooms with red meat. It is kind of healthy and hearty,sometimes it can "escape" from the appetizer meaning and become a great main dish.It's marvelous taste can be also a great adition in every main dish,from pasta sauce to traditional homemade dishes.
•To start,seperate the hard stems with a knive.In a bowl,add the mushrooms(UNWASHED) and marinate with the olive oil,oregano and salt&pepper for a while.
•Be sure that spices and oil will cover all mushroom's surface.
•In another small bowl,add the lemon juice and with a whisk,start whisking rapidly while adding the olive oil in a twist's row.•Heat your grill and place mushrooms when heat is very high.
•Time of grilling vary from one grill to another,so be sure mushrooms will be grilled well,not burned or become very dark. Enjoy!!!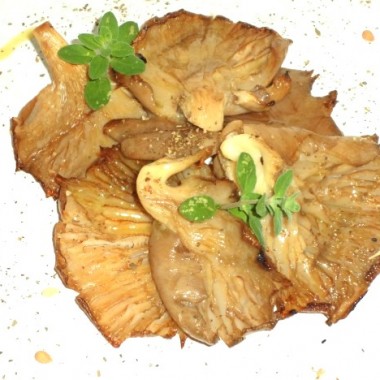 Servings:
1
Prep Time:
5 minutes
Total Time:
15 minutes
Related Categories: Vegetables,
Ingredients:
•300 gr fresh Pleurotus mushrooms •2 tbsp olive oil to marinate them •salt and pepper to taste •1 tbsp dry oregano(or 15 gr fresh,without stems and chopped) For the Ladolemono dressing: •80 ml olive oil •35 ml clean lemon juice •a pinch of salt