Tiganites me zaxari (Greek pancakes with sugar)
It is being a while since my grandma diagnosed with diabetes.That is bad in two ways,her health and she stopped making theese great and easy sweet.Her favourite actually!
Grandma was starting like:
•Mix all ingredients until the mixture is looking like porridge.
•Add some more water if you think is needed.
•In a big frying pan add the olive oil and let it heat over high fire.
•When oil is hot,with a spoon place some ''balls'' in the pan,let it fry for some minutes until tiganites have a golden crust.
•Reduce the fire and repeat until whole mixture is off.
•Drain in some kitchen paper and top with some sugar and serve! Enjoy!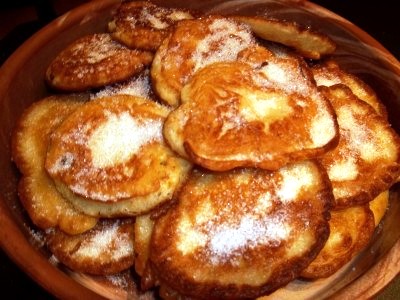 Servings:
14 pieces
Prep Time:
5 minutes
Total Time:
20 minutes
Related Categories: Sweets,
Ingredients:
•3/4 cup all purpose flour •1 tbsp olive oil •1 tbsp baking powder •1 teaspoon sugar •1 tsp salt •1/2 cup water •400 ml olive oil for frying process. 5 tbsp sugar to top when serving.