No baked cheesecake
How to prepare No Bake Cheese cake:
Pour crumbs into a  medium bowl; stir in sugar. Add butter, and stir until well.
Press the crumb mixture into a springform pan, spreading it 1 1/2 to 2 inch up the side; press flat. Chill crust in freezer at least 10 minutes.
Meanwhile, make the filling: using an electric mixer set at a medium-high speed, beat the cream cheese in a large bowl until smooth.
Beat in the condensed milk a little at a time. Then add in the lemon juice and vanilla.
Pour the filling into the crust; smooth the top with a rubber spatula. Cover with plastic wrap, and refrigerate until firm, 2 1/2-3 hours. Top the blueberries or cherries.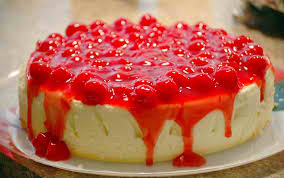 Servings:
6
Prep Time:
30 Minutes
Total Time:
2 hrs
Related Categories: Sweets,
Ingredients:
2 cups crushed graham crackers 1 bar unsalted butter, melted 2 tbsp sugar 2 bars cream cheese, room temperature 1 1/4 cups condensed milk 1/4 cups fresh lemon juice 1 tsp vanilla extract 1 can blueberries or cherries