Tasty Pleurotus Risotto with fresh Onion and Greek White Wine.

•In a medium sized risotto pan,add the olive oil and place it over high heat.
•Add and saute the mushrooms,onion and fresh onion,garlic and finally rice washed.
•When all ingredients are soft,pour the wine and start slowly slowly adding broth until rice is cooked in a level that you wish.
•Finally,strengthen your risotto with parmesan,season with pepper and salt and right before serving,garnish with parsley.
Who said that mushrooms are not able to replace all kind of meats? Enjoy!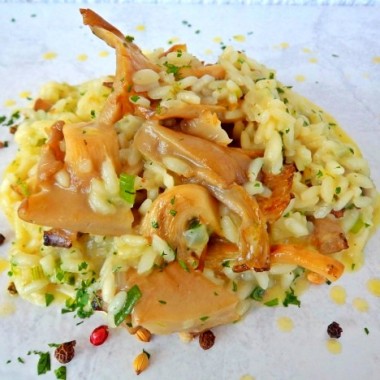 Servings:
1
Prep Time:
3 minutes
Total Time:
20 minutes
Related Categories: Rice Dishes,
Ingredients:
•80 gr rice(Arborio,Carnaroli) •120 gr pleurotus fresh mushrooms,in slices •1/2 small red onion,chopped •1/2 garlic clove,chopped •1 fresh onion,in thin rolls •250 gr chicken broth •50 gr grated parmesan •2 tbsp olive oil •salt and pepper to taste •some parsley to garnish •2 shots of Greek white wine