Arroz Valenciana
boil the chicken and shrimp to 6 cups of water together with onions, bay leaf and peppercorns, add a teaspoon of salt.

once the chicken and shrimp are cook, separate the stock and set aside.
slice chicken to bite sizes, remove the shell of the shrimp, set aside.
mix glutinous rice with white rice then boil the rice mixture with 3 1/2 cups of chicken and shrimp stock, add the saffron. stir once in a while to prevent burning.
fry the chorizo bilbao.
in a hot oil, saute garlic, and the remaining onions. season with salt and pepper. add the cooked rice mixture; blend well, then add the rest of the ingredieents and combine lightly.
arrange on a platter and garnish with sliced hard-boiled eggs, strips of parsley or onion leaves.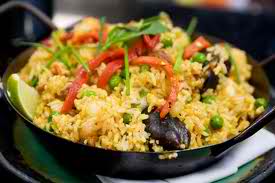 Servings: 10
Prep Time:
Total Time:

Related Categories: Rice Dishes,
Ingredients:
1 1/2 cup glutinous rice 1 1/2 cup white rice 1/4 kilo medium sized shrimp 3 pcs chorizo bilbao, sliced slightly 1/2 cup oil 1/4 kilo chicken fillet 2 cloves garlic, minced 1 pinch saffron 1 large onion, sliced 1/4 tsp black pepper 1/4 tsp paprika 1 small can green peas 1 red bell pepper, sliced 3 hard boiled eggs, sliced 3 pcs dried bayleaf 1/4 tsp peppercorns salt to taste parsley or onion leaves