Lamb Sausage
Using a paddle attachment, mix the meat and seasoning on low speed for a minute, adding red wine a little at a time. Turn up the speed to medium for 20 seconds, or until the sausage mixture is sticky to the touch.
 Test cooks a small portion. Adjust the seasoning and consistency (if needed, with cold water) before stuffing into casings.
Stuff into prepared casing, dividing into 12-inch links.
Keep refrigerated for up to 5 days. Pan fry, broil or grill.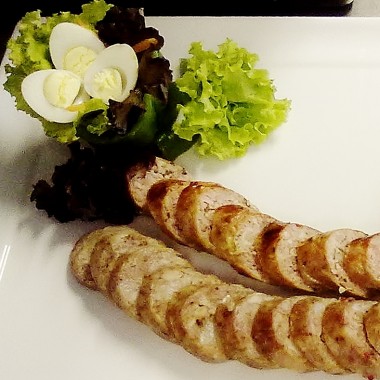 Servings: 1.2 kilo
Prep Time:
Total Time:

Related Categories: Other,
Ingredients:
Lamb Trim, ground, kept cold 800g Pork Fat 325g Salt 20g Sugar 1 ¼ tsp Black Pepper, ground ¼ tsp Nutmeg, ground pinch Cinnamon, ground pinch Cloves, ground pinch Ginger powder, ground pinch Chilli Flakes ½ tsp Roasted Red Bell Peppers, peeled, seeded, brunoise 170g Dry Red Wine 4 tbsp Ice Cold Water 4 tbsp Sheep Casings as needed