Sirloin Topped with Shrimp in Garlic Cream Sauce
This is what happens when you go shopping hungry... You buy everything that looks yummy! Maybe that's not such a bad thing if the result is this mouthwatering sirloin steak and succulent fresh shrimp in a garlic cream. Everyone at the dinner table raved ~ I think I'll be shopping hungry more often!
Click here for this delicious recipe!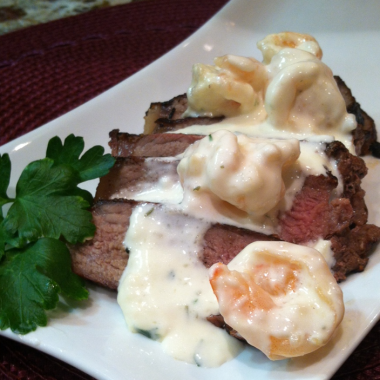 Servings:
Prep Time:
Total Time:

Related Categories: Meats,
Ingredients:
2 Sirloin Steaks
1 Tbs. olive oil
3 garlic cloves, crushed and finely chopped
1 cup heavy cream
1 Tbs. fresh parsley, chopped
1/4 teaspoon white pepper
12 raw shrimp (31 count), peeled and deveined