Creamy Zucchini and Mushroom Bake
With the holidays right around the corner, tasty side dishes have been on my mind. The fresh zucchini, mushrooms and onion are lightly sauteed to enhance their flavor but keep their texture. Once baked the rich cream, seasoned with nutmeg and cinnamon, blankets the vegetables for a delicious side to any meal.
Click here for this delicious recipe!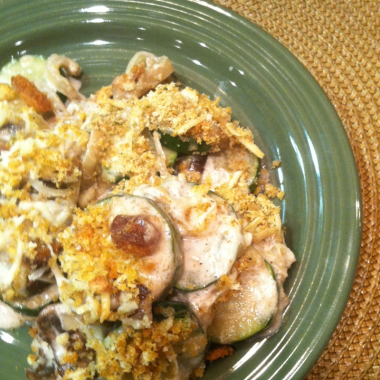 Servings:
3
Prep Time:
20 Min
Total Time:
40 Min
Related Categories: Vegetables,
Ingredients:
2 teaspoons olive oil
1 large onion, halved then sliced
4-5 small zucchini, sliced into 1/4" rounds
1 pound mushrooms, sliced
1/2 teaspoon nutmeg
3/4 teaspoon cinnamon
1/4 teaspoon black pepper
2 tablespoons flour
1 cup heavy whipping cream
3/4 cup cheese, grated (Parmigiano-Reggiano or Gruyere)
3/4 cup Panko bread crumbs
3 Tbs. olive oil