Gluten Free Almond Cookies
How to prepare a Gluten Free Almond Cookies Recipe:
A gluten free, guilt free almond cookie moist soft and simply delicious recipe. Here is the process how to prepare this delicious recipe: 1. In a large bowl, beat butter and sugar together until pale and fluffy. Beat in egg whites and salt until smooth, then add the almond extract and sift in the flour and ground almonds, mixing well until your mixture becomes a dough consistency 2. Wrap in Clingfilm and chill for 60 minutes. Pre-heat the oven to gas 3, 170°C, 150°C fan. Grease and line two baking trays with greaseproof paper. 3. Remove the dough from the fridge and roll out to ½cm thickness on a well- floured surface. Use a 5-6cm diameter cookie cutter to cut out shapes. Being careful as you handle the raw cookies, arrange them over two baking trays and place a blanched almond in the centre of each one, pressing in gently. 4. Bake at 350° for 15-18 minutes or until lightly browned. Cool for 1 minute before removing from pans to wire racks. Store in an airtight container.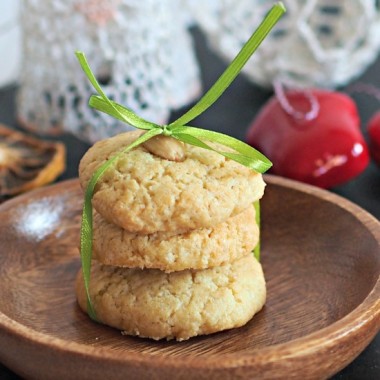 Servings:
25
Prep Time:
10 mins
Total Time:
20 mins
Related Categories: Baked,
Ingredients:
65 gr oil 100 gr sugar 125 gr brown rice flour 60 gr almond meal 2 large eggs, at room temperature 1/4 teaspoon baking soda 1 teaspoon baking powder 1/2 teaspoon salt 1 teaspoon xanthan gum 1 teaspoon almond extract 25 whole blanched almonds