Gluten Free Coconut Macaroons
Finish your meal with this sweet and crunchy but soft from inside gluten free coconut macaroons. It is made with unsweetened coconut and maple syrup. Perfect for every time of the day.
Instructions:
Step 1:
Preheat oven to 350F/180C.
Step 2:
Lightly grease a cookie tray.
Step 3:
In a medium bowl combine all the ingredients.
Step 4:
Mix well either with a mixer or with your hands.
Step 5:
Drop rounded teaspoonfuls of the mixture onto your prepared tray.
Step 6:
Bake the cookies for 10 - 15 minutes.
Step 7:
Let them cool on a wire rack before serving them.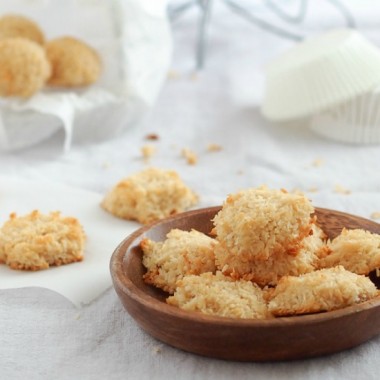 Servings:
20
Prep Time:
Total Time:
20
Related Categories: Dessert,
Ingredients:
Ingredients: 2 2/3 cups (200 gr) unsweetened flaked coconut 1/3 cup (75 gr)brown rice syrup OR 1/3 cup (75 gr) maple syrup 2 tablespoons brown rice flour Pinch of salt 3 egg whites 1/2 teaspoon vanilla extract