Filipino Pork Menudo
A meat dish consisting of pork meat, pork liver,  potatoes, carrots, raisins and tomato sauce is called Menudo. This dish is usually cooked as a simple viand for lunch or can be served at parties or special events.
Procedures:
1.Saute garlic and onion in oil until the onion becomes translucent. Add pork shoulder and liver and cook until slightly brown. Add fish sauce and cook for 3 minutes.
2.Add tomato sauce and water and stir. Let it simmer for 2 minutes. Add raisins, potatoes, bell pepper and carrot. Cook for 3-4 minutes until the carrot and potatoes are tender.
3.Add salt and pepper. Adjust according to your taste. Cook until the meat is tender and the sauce has thickened.
4.Serve hot with plain rice.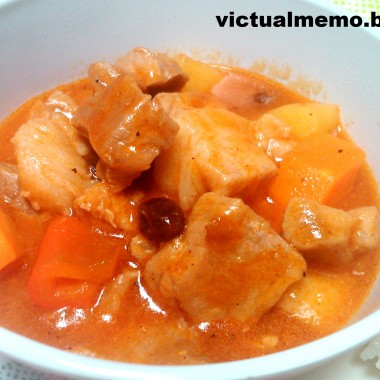 Servings:
4-6
Prep Time:
5 minutes
Total Time:
30 minutes
Related Categories: Asian, Meats,
Ingredients:
Ingredients: 1 kilo pork shoulder, cut into 1 inch cubes 1/2 cup pork liver, cut into 1 inch cubes 2 cups tomato sauce 4 cloves garlic, crushed and chopped 1 medium onion, chopped 1/2 cup sun-dried raisins 2 medium potatoes, diced into 1 inch cubes 1 large carrot, diced into 1 inch cubes 2 cups water 2 tbsp. cooking oil 1/4 cup green or red bell peppers, diced into 1 inch cubes salt & pepper 1 tbsp. fish sauce