Cream Dory Ceviche
Procedure:
1. Pour vinegar on a bowl of cleaned raw fish, toss generously to make sure it is properly soaked in vinegar. Cover the bowl with plastic film wrap and let it stand for 1 hour.
2. Prepare chopped ingredients for garnish/ kinilaw mix.
3. After an hour, strain soaked fish and discard used vinegar.  Transfer fish on a mixing bowl and add the chopped ingredients. Mix well and pour in lemon or calamansi juice. Season with sugar, salt and pepper.
4. Chill and serve.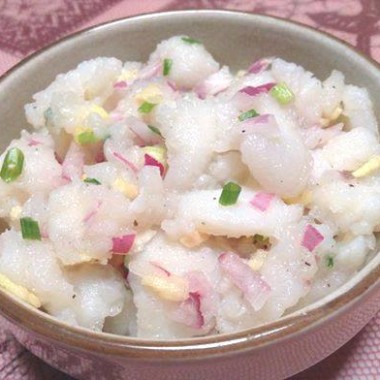 Servings:
4-6
Prep Time:
5 minutes
Total Time:
10 minutes
Related Categories: Bizarre, Fish,
Ingredients:
1 kilo pangasius fillet (cream dory), cut into bite size pieces 2 cups vinegar (or more to keep fish properly soaked) 1 thumb-size ginger, peeled and finely chopped 1 medium red onion, finely chopped 2 tbsp. chopped spring onions 2 tbsp. lemon or calamansi juice 2 tbsp. sugar a dash of salt and ground black pepper