Pininyahang Manok (Chicken Stew in Creamy Pineapple Sauce)
Pininyahang Manok or Chicken Stew in Creamy Pineapple Sauce is for people who loves creamy chicken and milk sauce-based viand with pineapple twist. It's easy to prepare because it includes simmering and sauteing ingredients for a few minutes. It's best served hot with plain rice for lunch or dinner.
Procedures:
1. Saute ginger, garlic and onion in a casserole with 2 tbsp. oil.
2. Add chicken pieces and fish sauce. Saute for 5 minutes.
3. Add pineapple syrup and peppercorns. Simmer and cover for 10 minutes.
4. Add potato, pineapple tidbits, bell pepper and evaporated milk. Simmer without lid for another 5 minutes until cooked.
5. Serve hot with plain rice.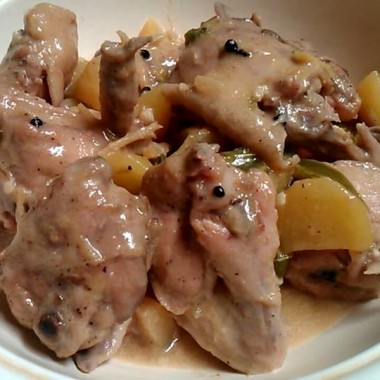 Servings:
5-10
Prep Time:
10 minutes
Total Time:
20-30 minutes
Related Categories: Asian,
Ingredients:
10 chicken pieces, cut into serving sizes 5 cloves garlic, crushed peppercorns 2 tbsp. fish sauce 1 small red bell pepper, diced 1 medium red onion, sliced 2 tbsp. ginger strips 1 can 154ml evaporated milk or 2/3 cup coconut milk 1 cup pineapple tidbits w/ syrup included