Traditional Greek Skordalia(cold meze with garlic)

• Soak the bread in water and drain well.
• Crumble nuts (my mom makes it in the  mortar, on the other hand i use beamer or blender) and add the bread.
• Mash the garlic .
• Mix all the ingredients well and add oil and vinegar mixture constantly working. The amounts vary depending on the taste, as with the traditional garlic. It is a great meze when spreaded on bread slices and can be eaten along with some ouzo and a good company. One traditional Greek recipe that includes skordalia is ''Bakaliaros Skordalia'',we eat this dish on Easter. Good luck!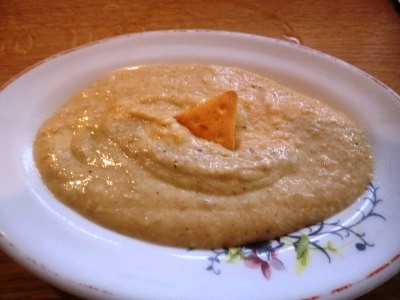 Servings:
3
Prep Time:
5 minutes
Total Time:
14 minutes
Related Categories: Appetizers,
Ingredients:
• 4 slices of bread(preferably wholegrain or what is left over from the previous or if you have not, a good solution is slices of toast) • 30 gr walnuts • 1 clove of garlic • 50 ml olive oil • 10 ml vinegar