Greek Cretan Ntakos
Even a 5 minutes recipe can be magical.Sometimes people think that combinations that never end have a great result but you will change your mind when you are going to try this. Cretan natives are really proud of that fantastic appetizer.
•To start,cut the tomato in tiny cubes,you can grate it if you like and put in a basin.
•Chop the olives,or cut in big pieces,put in the same basin.
•Grate the feta cheese with hands and place in the basin again.
•Add some olive oil in the ingredients,salt,pepper and oregano.
•Make the crisp a little bit wet with water and crush it with hands.
•Top with basin's mixture,add oregano and olive oil again and you are ready in less than 5 minutes.
TIP:You can leave it in fridge for 1 hour,the colder,the better!!!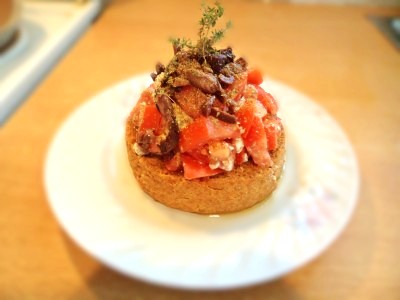 Servings:
1
Prep Time:
5 minutes
Total Time:
5 minutes
Related Categories: Appetizers,
Ingredients:
•1 big crisp •1 small tomato •3-4 olives without core(or olive rolls) •dry oregano(as prefered) •salt,pepper to taste •50 gr feta cheese •extra virgin olive oil,as much as prefered