Undhiyu Recipe
Undhiyu is a Gujarati mixed vegetable dish that is a regional specialty of Gujarat, India.
How to make Undhiyu
Step 1: For muthiya, firstly mix all the ingredients except oil and make dough. Make small pieces from dough and roll them. Now fry rolls in hot oil. Keep aside to cool it
Step 2: Peel the potatoes, yam and sweet potatoes. Cut the yam and sweet potatoes in cubes. Slit the potato, brinjal without cutting its stem
Step 3: Make a paste of green chilies, ginger, garlic and coriander leaves. Marinate Sweet potatoes, yam, brinjal, small potatoes in half of green paste for 20 minutes
Step 4: Heat the oil in pan. Add asafoetida, mustard seeds, cumin seeds, broad beans, pigeon peas, marinated vegetables, turmeric powder and saute for 10 minutes
Step 5: Add muthiya, sugar, tamarind paste, remain green paste, salt. Mix well and cook for 5 minutes on medium flame.
Step 6: Serve hot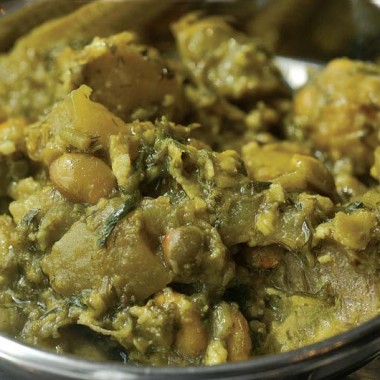 Servings:
6
Prep Time:
45 Minutes
Total Time:
60 Minutes
Related Categories: Vegetarian,
Ingredients:
2 tsp Tamarind Paste 30 gram Sugar 100 gram Yam 6 small Potatoes 100 gram Sweet Potatoes ½ cup Broad Beans ( Surti Papdi ) ½ cup Pigeon Peas ( Tuver Dana ) 4 baby Brinjal 5 tbsp Oil 6-7 Green Chilies 1 tsp Turmeric Powder Pinch of Asafoetida 1 tsp Cumin Seeds 1 tsp Mustard Seeds 1/2 cup Fresh Coriander Leaves 3 Inch Ginger ½ tbsp Garlic Crushed Salt to taste For Muthiya: 1 cup Wheat Flour 1/2 cup Fenugreek Leaves 1/4 cup Gram Flour 2 Green Chilies Salt to taste 1/2 tsp Cumin Seeds Oil to fry 1/2 tsp Fruit Salt Water as required