Mango Salsa
It's mango season. The market is full of sweet ripe mangoes and most of us are consuming them in some or other way. We bring to you yet another mango dish for your dinning table. This one comes with a twist, sweetness of mangoes along with some hot flavours. Hope you like it.
Step 1: Mix all ingredients together in a bowl
Step 2:
Toss well and refrigerate for some 30 minutes to allow the flavors to mingle well.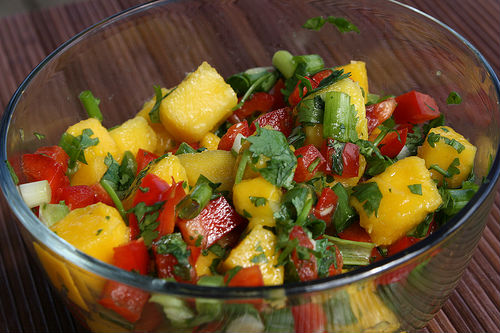 Servings:
4
Prep Time:
20
Total Time:
50
Related Categories: Dessert,
Ingredients:
2 fresh, large, ripe yet firm sweet mangoes, diced into small pieces 1/4 cup crushed pineapple 1/4 red bell pepper, coarsely chopped 1/4 green bell pepper, coarsely chopped 1 jalapeno pepper, seeded(optional) and minced 2 tablespoons extra virgin olive oil 1 clove garlic, minced finely 1 shallot (little red onion), finely diced 2 tablespoons chopped fresh corriander leaves 2 teaspoons fresh lime juice 1/2 teaspoon red pepper flakes (optional) Salt and pepper (to taste) Few mint leaves (optional)