Punugulu Dosa
Cooking Procedure:
Step:1 Combine all the above ingredients except oil.
Step2: Mix well, Leave aside for half an hour, heat oil for deep frying, once the oil gets hot, reduce flame to medium.
Step3: Place a tablespoon for batter into the hot oil. (You can use your hand instead of a spoon to drop small balls of the batter into the hot oil) Place 7-8 punugulu in the first batch.
Step:4 Do not crowd the vessel, turn the punugulu as they change color and cook till golden brown. Remove onto absorbent paper and serve with chutney of your choice.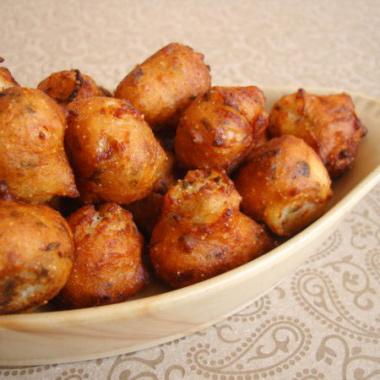 Servings:
6
Prep Time:
15 min
Total Time:
30 min
Related Categories: Vegetarian,
Ingredients:
Dosa Batter - 2 cups,Rice flour - 1 - 2 tbsps,Semolina - 2 tbsps (semolina/cream of wheat),Onions - 1/2, finely chopped,Green chili paste - 1 tsp or 2,Cumin seeds - 1/2 tsp,Curry leaves - 1 sprig, finely chopped,Coriander leaves - 2 tbsps, finely chopped,Salt to taste, Oil for deep frying