Menudo Recipe
Preparation Procedure:

fry potato and carrot separately in oil until golden brown, strain and set aside. Remove oil from the pan leaving 2 tbsp and preheat.


season pork and liver separately and sear separately until golden brown. Set aside


add 2 tbsp oil in the same pan and saute garlic and onion for 2 minutes. Add tomato paste and cook over low heat for 5 minutes while continuously mixing.transfer mixture into a pot.


add seared pork in the pot and add water to b cover. stir, bring to a boil, add bay leaf, then simmer for 45 minutes or until tender.


add seared liver, fried potato, carrot and bell pepper then simmer for 10 minutes.


season with sugar and pepper. Check seasoning and serve.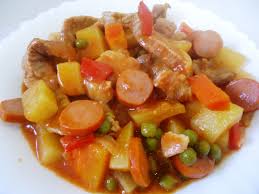 Servings:
5-7 servings
Prep Time:
10 Minutes
Total Time:
1Hour
Related Categories: Recipes,
Ingredients:
1/4 cup vegetable oil
1 pc small carrot, medium diced
1 pc small potato, medium diced
1/4 kg pork kasim, cut into 3/4 inch cubes
100 g pork liver, cut into 3/4 inch cube
4 cloves garlic, minced
1/4 cup tomato paste
1 pc small red and green bell pepper, medium diced
2 tbsp brown sugar
1/4 tsp freshly ground black pepper