Grilled Chicken Tikka
Preparing grilled chicken tikka is easy, but rather its taste vary with herb mix that make it more spicy. When chicken is marinated in aromatic spices and cool yogurt, and then grilled comes out to be a exotic cuisine. Enjoy easy to prepare and quick appetizer at your home with recipe given as follows.
How to make Grilled Chicken Tikka
Step 1: Wash the chicken and cut into cubes so as to thread in skewers.
Step 2: In a bowl, combine yogurt, lemon juice, cumin, garlic, ginger, pepper, coriander, garam masala, ginger, and salt.
Step 3: Stir in chicken cubes and marinate for 2 hours.
Step 4: Thread the chicken onto the skewers, then brush with oil.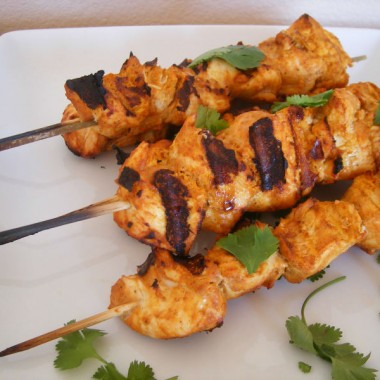 Servings:
5
Prep Time:
20
Total Time:
20
Related Categories: Meats,
Ingredients:
Ingredients 100 gms boneless, skinless Chicken 1/2 cup Yogurt 1 tbsp Lemon juice 1/4 tsp garam Masala 1 tsp Coriander powder 1/4 tsp ground Pepper 4 tbsp oil 8 minced Garlic cloves 1 grated Ginger 2 teaspoons Cumin Salt to taste 4 Skewers