Peruvian crab causa
This dish is taken from the peruvian cuisine.  The basic recipe is the mash potato mixed with the chili and lemon flavor, but you can make your own causa using, tuna, avocado, tomatoes,  onion and others.
Preparation:
Peel and mash the potatoes.
Boil the yellow chili peppers, split in two and remove the seeds and central veins with a teaspoon.
Liquefy the chili with oil, lemon juice, salt and pepper and add this mixture to the mashed potatoes.
Place the preparation on a plastic film
Insert some crab and mayonnaise in the center and wrap
Garnish with, hard boiled egg, parsley, red pepper, black olives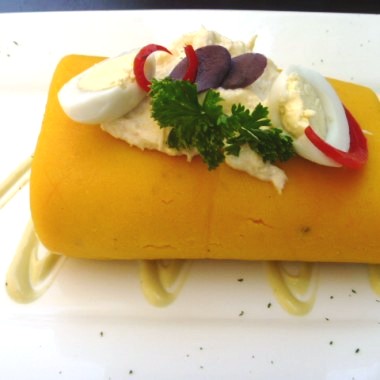 Servings:
6
Prep Time:
1 HOUR
Total Time:
1 HOUR
Related Categories: Latin Food,
Ingredients:
1 ½ Kg boiled mash potatoes (Choose yellow potato or similar) 1 Can of crab meat 5 Peruvian lemons (which is small and acid) 8 Peruvian yellow chili pepper (which is orange color) Oil, Salt and pepper Mayonnaise