Chicken Rice
Fry the onion, sweet pepper and garlic.
Add the rice and salt to taste.
Add 5 cups of water
Cut the chicken breast in small squares
Fry the chicken in a saucepan for 3 minutes or until the chicken is well done.
In a saucepan melt the butter.
Add the chicken.
Add soy sauce, salt and pepper
Cook for 20 min
After cooking, add the rice and the julienned celery.
Mix well.
Serve and enjoy!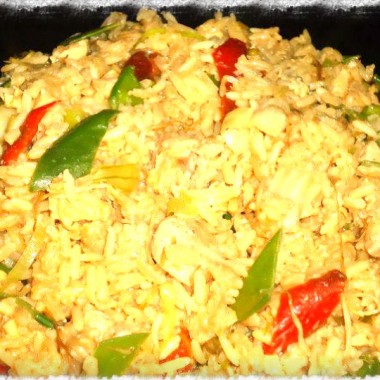 Servings:
4 persons
Prep Time:
20 min
Total Time:
50 min
Related Categories: Latin Food,
Ingredients:
• 5 cups of rice • 1 cup diced onion • 1 cup of julienned peppers • 2 stalks of julienned celery • 4 minced garlics • 8 ounces of bacon • 3 chicken breast • Soy sauce • Salt • Pepper • 6 ounces of butter(170 grams) • 8 cups of water