Sous vide Salmon
Prosecco wine sous vide Atlantic Salmon on green zucchini spaghetti salad, bell pepper and shallots lemon vinaigrette.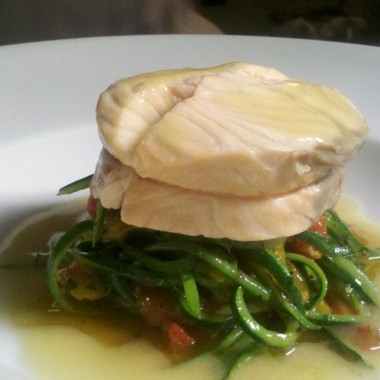 Servings:
1
Prep Time:
1 hour
Total Time:
1.5 hours
Related Categories: Fish Recipes,
Ingredients:
8 ounces of Salmon cut two pieces of 4 ounces each and then thigh it with twine, place the fish in the sous vide bag adding the wine and the light seasoning od sea salt. Vacum pack the bag then immerse in the water and set up the termostat temperature at 135 keep in the water for 35 minutes. In the mean time prepare the salad by cutting with the mandolin the green zucchini only the green part tossed with diced and peeled bell pepper and dressed with the shallots vinagrette. Assemblig the dish by using a bowl plate place the green zucchini "spaghetti" salad on the center and topped with the already cooked salmon, basted with one of 4 ounces laddle of shallots vinaigrette.