Rellenong Bangus
Rellenong bangus (stuffed milkfish) is a standout amongst the most prominent dish in the Philippines. On top of the scrumptious taste and exceptional procedure of arrangement contrasted with other fish menus, the measure of work include is dreary. Dividing the skin from the meat and deboning and flaking of the milkfish meat needs a ton of persistence. At the same time after all the tough work of deboning, marinating the skin, cooking the meat with all the ingredients, stuffing the skin with the fish meat mixture and baking or frying is the prize of consuming a remarkable and delightful Filipino dish.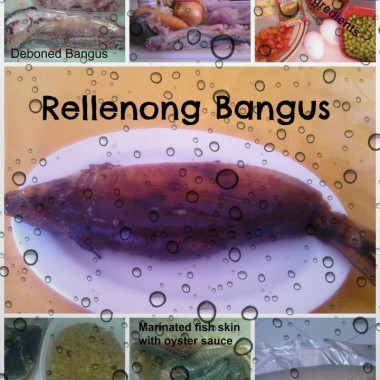 Servings:
2-3
Prep Time:
40 minutes
Total Time:
80 minutes
Related Categories: Fish Recipes,
Ingredients:
Ingredients: 1 large sized bangus (milkfish) 1 onion, finely chopped 4 cloves garlic, minced 1 small sized carrot, cut into small cubes 1 box raisins 1 cup green peas ¼ cup cheddar cheese 2 tomatoes, chopped 2 raw eggs 1 tsp. Salt 2 tbsp. oyster sauce 1 green bell pepper, finely chopped 2 tbsp. sesame oil (optional) 2 tbsp. Flour cooking oil for frying Procedure: o Scrape fish scales. Clean. Tenderly pound fish to release meat from the skin. Utilize flat side of a blade in pounding. o Break the big bone at the nape and on the tail. Insert the end of the handle of a aluminum ladle through the fish neck. o Gently rub down the handle between the meat and the skin. Rub down to the tail, going around and on the other side of the fish. o If you feel the meat is completely divided from the skin, remove handle, press and push out meat (with the tail bone), beginning from the tail going out through the head. Along these lines, you will have the ability to push out the entire meat without cutting an opening on the skin. o Marinate skin and head of fish with oyster sauce and calamansi juice. Set aside. Bring the fish meat into boil with a little water. Drain. Remove the bones. Flake meat. o Saute garlic until golden brown. Include onion and tomatoes. Blend in fish meat, carrot, and pepper, green peas, and raisins. Add Oyster sauce and sesame oil. o Pour cooked mixture to a bowl. Add 2 whisked eggs and stir with a ladle. Let it cool for a few minutes. Fill in mixture in bangus (milkfish skin). Wrapped bangus (milkfish) with aluminum foil or wilted banana leaves. Deep fry until golden brown. (You can also bake this in 350 degree Fahrenheit for about 30 minutes.) o Cool before cutting. Serve with hot rice and ketchup.