Chicken Macaroni Salad
Macaroni Salad is one of the regular salads that is normally accompanied together with grilled, roast, barbecue meats or fried chicken, it is typically served cool and made with elbow macaroni pasta dressed with mayonnaise and other ingredients such as shredded chicken, cheese and some vegetables. This is also one of son's favorite salads.
HOW TO PREPARE:
• In a medium pot over medium heat, cook chicken until no longer pink. Transfer on a plate let it cool enough to , then shred. Set aside.
• In a medium pot boil water add salt and 2 tablespoon of cooking oil, then add macaroni when the water is boiling cook macaroni until soft. Drain and rinse under cold water.  Set aside.
• In a large bowl, mix all ingredients together until well combined.
• Chill for several hours before serving.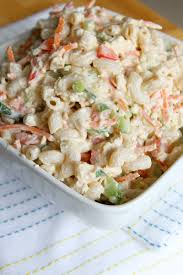 Servings:
6 to 8
Prep Time:
30 minutes
Total Time:
2 hours and 30 minutes
Related Categories: Pastas,
Ingredients:
INGREDIENTS: • 8 oz (2 cups) macaroni pasta, cooked • 3/4 cup mayonnaise • 2 tbsp onion, chopped • 1 cup cooked chicken breast, shredded • 1/3 cup carrots, chopped • 1/2 cup cheddar cheese, cubed • 3/4 cup pineapple tidbits • 1/3 cup raisins • 2 stalks of celery, chopped • 2 1/2 tbsp condensed milk • 1 tbsp pickle relish • pinch (1/16 tsp) salt