Stuff Red Fish
1) Wash the fish  and check if it is clean and without organs. 2) Remove the bone from the fish with great care. 3) Remove the backbone and season with white pepper and salt and put white pepper, salt, paprika and olive oil inside the of the fish. 4) Put the skeleton again to retain the shape of the fish and baked it at 350 degrees, until golden brown or cooked. 5) Remove from the oven and carefully remove the skeleton. 6) Then filled with lobster and place some sauce of lobster on top. 7) Place over grouller grated cheese and then some grated Parmesan cheese also . 8) Put it back in the oven for browning. 9) Remove from the oven and serve.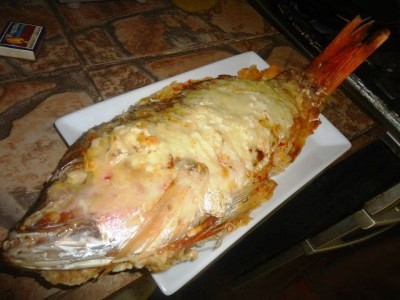 Servings:
4-6
Prep Time:
5 minutes
Total Time:
1 hour
Related Categories: Fine Dining,
Ingredients:
• 1 large fish (red mouth, 3 lbs. Clean) • 1 ½ pounds of shrimp or lobster tail. • 1 red chili. • 1 medium white onion. • 1 cup cream • 4 ounces of cheese for grating grouller. • 4 ounces Parmesan cheese for grating. • 2 ounces of brandy. • Olive oil. • Sal • White pepper powder. • Paprika or red pepper powder.