Mussels au Gratin
-Take 1 garlic clove and some parsley leaves, then chop them all together.
-
Put the breadcrumbs into the processor bucket and add the Parmesan cheese.
-
Add salt and black pepper.
-
Add the chopped garlic and parsley. Now, process the bucket contents until everything is evenly mixed and reduced to a fine crumb.
-
Pour the bucket contents into a bowl.
-T
ake the 75 ml olive oil and gradually add it to the dry mixture. Start with half of the olive oil and mix with a spoon so that the oil is evenly distributed.
-A
dd the 60 ml (4 tablespoons) of olive oil you previously set aside into a large pan.
-
Cut the remaining garlic clove into thin slices and sauté for 3-4 minutes over low heat.
-T
urn the heat to medium and add all the mussels. Leave to cook for 1 minute.
-
Then, add the white wine 
-
Cook the mussels until they open.
-
Sprinkle the moist breadcrumb mix onto each mussels, also filling the empty space around them, but do not press with the fingers, just let the breadcrumb mix to drop.
-
Lay all the half shells onto a baking tray.
-
pre-heat the oven to 220ºC (425ºF).
-
After 2 minutes, spray with the atomiser and then continue for about 8 minutes or until the top of the mussels are golden brown and a lovely smell of fish is all around your kitchen.
-Add mozarella cheese on top and bake for 5 minutes to melt the cheese. - ENJOY!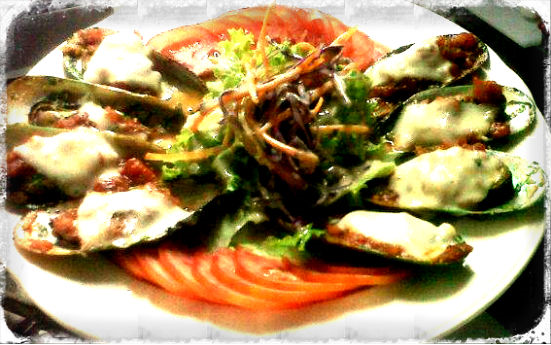 Servings:
4-6
Prep Time:
10 minutes
Total Time:
1 hour
Related Categories: Exotic,
Ingredients:
1.5 Kg Fresh mussels- 125 g Breadcrumbs- 60 g Parmesan cheese- A small bunch of flat leaf parsley- 2 Cloves of garlic- 60 ml Extra virgin olive oil- 75 ml Extra virgin olive oil (for the breadcrumb mix)- A pinch of salt - Ground black pepper- 100 ml White wine