Royal Beef Wellington

1) Fry chicken livers with butter.
2) Chop 2 ounces of onion.
3) When the liver is already cooked , add the chopped onion, salt, black pepper , 2 ounces of brandy and flame it.
4) Then blend it, and if needed, add it more white wine.
5) Divide this mixture into several portions, and wrap each one of them with aluminium foil.
6) Add salt and pepper to the meat and cook in a pan with oil, only to seal pores. When the meat is fried place the meat into the oven at 300F° until cooked
7) Remove.
8) Stretch the pastry puff and put the liver mixture over it.
9) Put the meat over the mixture, wrap it and seal it with the beaten eggs.
10) Varnished with beaten egg and baked in the oven at 300 °F until it is done.
11) For the sauce, whisk the mixture of liver with the cream, and seazoned with salt and pepper.
12) Serve.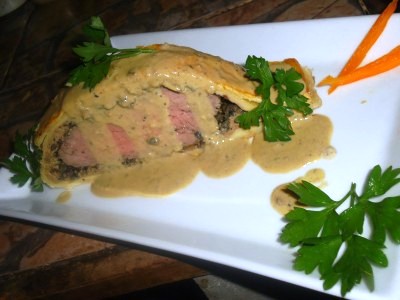 Servings:
4-6
Prep Time:
10 minutes
Total Time:
50 minutes
Related Categories: European,
Ingredients:
• ½ pound of pastry Puff, • 8 ounces of chicken liver, • 1 small onion, • 3 oz of white wine, • 2 ounces of brandy, • 1 ounce of butter, • 1 large piece of meat (central part of the back 1 ½ pounds), • ½ cup of cream, • Salt, • Oil, • Black pepper, • ½ tray portobello mushroom, • Fresh thyme, • Fresh rosemary.