Homemade Italian Tiramisu
I got this recipe from my sister and tried this for the first time at home. The taste of dark chocolate and the liquor blended so well for the taste. The mascarpone was given to me by my sister she made it by herself.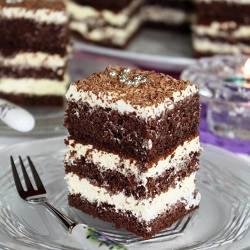 Servings:
6
Prep Time:
20 minutes
Total Time:
3 hours
Related Categories: Dessert,
Ingredients:
Ingredients • 6 eggs, separated • 1 cup caster sugar • 500 g mascarpone • 1 cup freshly made hot, strong, espresso coffee • liqueur mixture of Tia Maria, Kahlua and amaretto • 400 g packet graham crackers • good-quality dark chocolate, grated Instructions Chilling time 2–3 hours Beat the egg yolks and the sugar for at least 15 minutes, or until thick and white. Add the mascarpone and beat until just combined but smooth. Mix the coffee and liqueur (according to your taste) in a bowl. Swiftly dip the biscuits into the liquid and set aside on a plate or tray. Beat the egg whites until thick and stiff, and smoothly fold into the mascarpone mixture. Layer the soaked graham crackers and mascarpone cream in a large bowl or desired bowls. Chill for at least 2–3 hours. Before serving, sprinkle with a generous grated chocolate.