Easy Cinnamon Rolls Recipe
How to make Cinnamon roll
Step 1: Combine flour ,yeast ,milk(warm and heat about 120 f ),butter (melted ) and sugar in a bowl, start making a dough with a mixture but the sweetness comes when you do it with your own hands if possible during the process of making dough add eggs one at a time beating well after each addition .
Step 2: Beat down the mix for around 3 minutes the more beating,the sweeter the dough gets ,beat till the dough gets a elastic texture and it is not sticky too much.
Step 3: Shape the dough into small balls Cover with dough plastic wrap and put it in a warm place until almost 2 hours.

Step 4: Then punch the dough to release the air.

Step 5: On the other end make the filling. Stir all the filling ingredients brown sugar, flour, and cinnamon. In the bowl cut in the cold butter with a pastry blender, or two knives, until the mixture is crumbly.

Step 6: Use a roller to get the dough a 12 inch (30 cm) square. sprinkle the fillings of brown sugar, butter and cinnamon powder mix also brush the edges with cream.

Step 7: Roll the dough to form a log, starting at the end opposite the edge and brush it with cream .

Step 8: Make slices of the the log into eight equal-sized pieces.

Step 9: Arrange rolls in a greased 13 x 9 x 2 inch (33 x 23 x 5 cm) glass baking pan with butter coated.

Step 10: Bake the rolls in the oven for 375 degrees F (190 degrees C) for 25 to 30 minutes or until light brown.

Step 11: Get a layer of frosting again on the buns also sprinkle cinnamon powder for that great smell (optional ).

Step 12: Serve warm or at room temperature.

Step 13: Eating them fresh if possible.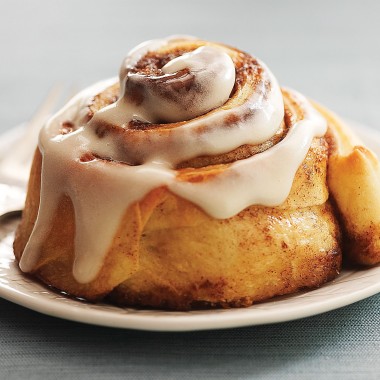 Servings:
2-3
Prep Time:
30 Minutes
Total Time:
1 hr
Related Categories: Dessert,
Ingredients:
We all know that cinnamon bun is a classic Christmas recipe .It can be made with variations as per needed like 1. Caramel 2. Chocolate sauce 3. Raisins 4. The classic cream • Best it is served for desserts or brunches • A cold lemonade or an iced latte is best to serve with it even a hot chocolate or cold chocolate is best to get on with it kids usually love it. • The best thing about the recipe is that cinnamon gives heat to the body so during those chilly winter nights it's the best match with Christmas dinners. • The cons are it fattening and cinnamon could be allergic to some people right now we are going to make the classic cinnamon roll with frostings. Dough • 5-6 cups of flour (All purpose flour). • 1 cup milk around 240 ml. • 1/2 cup butter. • 1/2 cup sugar. • 3-4 large white eggs. • 1/3 tbsp yeast. • Salt as per taste. Fillings • 1 cup brown sugar. • 1 table spoon ground cinnamon powder smells better if freshly grinded. • 1/2 cup all purpose flour. • 1/2 cup butter. Frostings • 3-4 table spoon half and half cream