Almond Brownies
1) Cream the butter and sugar until bleach 2) Add eggs and whisk at medium speed 3) Add the melted chocolate. 4) Add the dried products (flour, ground almonds and baking powder) 5) Put this mixture in half tray covered with waxed paper greased and floured. 6) Put aluminum foil on the sides, 3 inches tall 7) Bake for 35 minutes at 300f°. 8)Let cool for 30 minutes and then with the help of another tray turn it so that the bottom is facing up. 9) Let cool the Ganash and prepare to distribute it around the tray. 10) Melt the white chocolate and put in a pastry sleeve and make decorations on the dark chocolate, and refrigerate.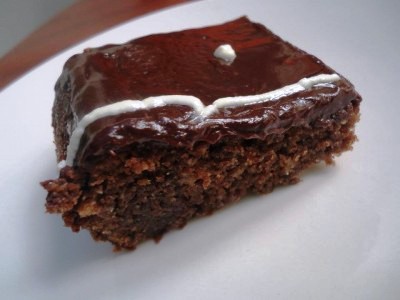 Servings:
20
Prep Time:
10 minutes
Total Time:
1 hour
Related Categories: Baked,
Ingredients:
11/2 pounds of sugar, 1 ¼ pound butter, 12 ounce of dark chocolate, 1 pound semi strong flour, 1 pound ground almonds, 10 eggs, 10 g baking powder, 300 g of black chocolate, 300 g of cream anchor, 4 ounces white chocolate milk.