Four Season Veggies
Four Season Veggies is a Healthy dish, loaded of vitamins and minerals, other than a source of fibers.
Instructions:
• Soak the mushrooms in warm water for 20 minutes and discard the hard stalks.
• Cut the celery into small pieces.
• Drain the baby corns.
• Heat oil in a pan. Now fry the pork until the color changes.
• Take out pork from the pan when fried. Now heat the remaining oil and then add mushrooms and the other vegetables. Then add the salt, sugar, quail eggs and pork.
• Cook for few minutes and then serve it.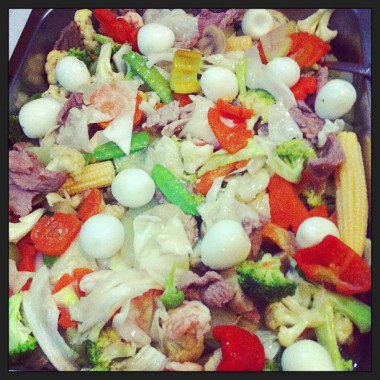 Servings:
4
Prep Time:
20 mins
Total Time:
50 mins
Related Categories: Vegetables,
Ingredients:
1/4 cup carrot cut in cubes 1/4 cup sayote or christophene or vegetable pear 1/4 cup broccoli 1/4 cup cauliflowers 1/4 cup green beans 1/4 cup cabbage 1/4 cup Chinese cabbage 1/2 or 300 grams squid roll or squid ball 2 tsp white pepper 1 bouillon 1 tsp cornstarch dissolve in 1/4cup water 125 grams pork/beef meat 125 grams quail eggs 25 grams chinese dried mushrooms chicharo 1 can of young corn/baby corn