Kare Kare
So,
  everybody and their mother have the one, the only, the very best  
Kare Kare
  recipe. Of course, having lived in the Philippines for almost five years, I have my very own "best" recipe. As for the protein, the most common is ox tail, but of course you can substitute it with any protein you like, even omit it completely and make a vegetarian version. The most important part of  
Kare Kare
 is the peanut sauce, of which a million of fine variations exist 
:-)
  (and maybe some not so fine) Here now is my humble version of this wonderful dish: Saute beef neck bones, seasoned with kosher salt and black pepper, in peanut oil until browned. Remove bones, reserve. Saute chopped carrots, onions and celery until caramelized, return neck bones to the pot, cover with water. Add lots of garlic paste, a handful of rice, a good amount of turmeric, a few annatto seeds, salt and pepper and bring to a simmer. Cook slowly for about two to three hours or until meat is tender. Add a large amount of peanut butter and simmer until sauce has thickened. Add  
Patis
 and calamansi juice, check /adjust seasoning. While the meat simmers, blanch zucchini batons, eggplant batons, whole chilies and baby bok choy, shock in ice water, drain. When the stew is done, add the vegetables to it and simmer until vegetables have heated through. Serve with white rice.
Mabuting Gana !   B
uhay Ay Mabuti !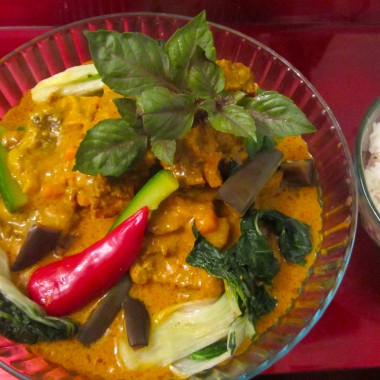 Servings:
Prep Time:
Total Time:

Related Categories: Uncategorized,
Ingredients:
See all pic's and recipe at : www.ChefsOpinion.org